York Green Party welcomes the new low traffic neighbourhood in the Groves, which is being put in place following two years of consultation with the people living there who identified traffic through the area as a major detractor from quality of life. All three ward councillors, including Cllr Denise Craghill have supported the scheme. She said:  
The new scheme will make it safer for local children to walk or cycle to school at Park Grove Academy, it will allow people to walk to the local shops without having to negotiate cars using the roads as a cut through.
We believe that the new scheme balances the needs of local people with that of drivers who can make use of the main roads rather than cutting a community up with cars.
Details of the scheme can be found on the council website and here is a map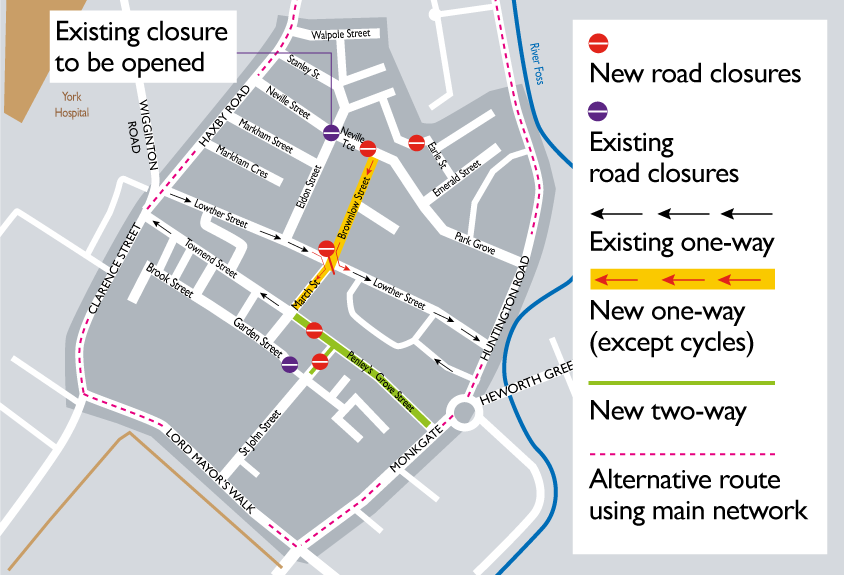 Councillor Andy D'Agorne, Executive Member for Transport, said:
"These changes have been developed as a direct response to concerns raised by local residents, particularly regarding the level of traffic travelling through the area. It is an approach being used around the country by many local councils. While the project start was delayed by the Covid-19 pandemic, this has given us the opportunity to secure additional funding from the government. The plan which has the support of all three ward councillors gives us a real opportunity to improve our street environment not just for this period, but for the future as well.
Our aim is to embed active travel – walking and cycling – as part of a long-term habit and reap the associated health, air quality and congestion benefits. However, it is crucial that any of the measures we put in place work for all residents, businesses and community organisations in the area. We've been engaging closely with residents and businesses and will continue to do so, allowing everyone to reflect on how they are working.
Streets which are less congested or car dominated lead to much improved road safety, better air quality and more walking and cycling which can improve health and wellbeing.
They can often also lead to more social interaction, community activities and less isolation, as people feel safer and more confident being out and about in the area. Some residents are preparing a programme of activities to take advantage of the changes, which I'd urge everyone to join in with.
 The scheme has been introduced under an Experimental Traffic Regulation Order which means that it can be adapted and then after at least 6 months can be made permanent. The order can be in place for up to 18 months before being confirmed as a permanent arrangement or removed. Local residents hope that it will people in the area will quickly see the benefits and want it to become a permanent feature. You can comment on the scheme by emailing thegrovestrial@york.gov.uk "